Info.
INCOCELL IN® is a self-laying porcelain stoneware floor that you can lay yourself. No special skills, cement or glue are required. After laying, it is immediately available for use. It is suitable for indoor areas, whether in private living spaces or public facilities, for shop fitting, trade fair stands, pop-up exhibitions and much more.

It can be removed and reused at any time and, above all, can be quickly and easily installed. INCOCELL IN® is an innovative, versatile and sustainable solution that gives you the freedom to easily implement it yourself.

The floor panels consist of a high-quality porcelain stoneware base and a coating of polymer composites (rubber, fibres, cork) on the bottom and on the edges of the panels. The polymer not only provides a high level of comfort and reduces noise, but also prevents the development of fungi, mould and odours thanks to its chemical treatment.

Main advantages:
Innovation (porcelain stoneware without the need for gluing);
Aesthetics and properties of a sturdy and resistant porcelain stoneware floor tile;
Easy, quick and economical installation without gluing or cementing;
Easy cutting with a tile cutter and carpet knife (polymer);
Comfortable and low-noise;
Easy cleaning (damp cleaning, PH-neutral cleaner for fine stoneware);
Easy dismantling and storage;
Dozens of reusability;
The system is highly economical and sustainable.
See Products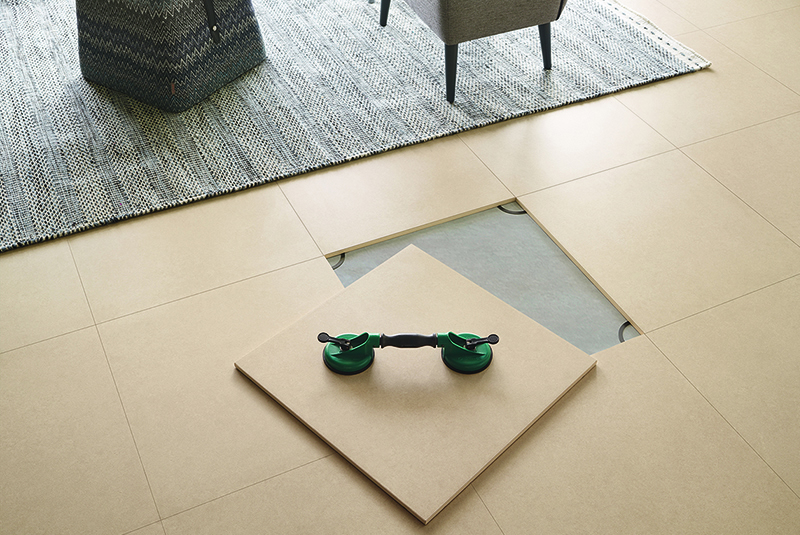 INCOcell
Porcelain Stoneware
This is the standard collection for this type of self-supporting flooring, however, we can present other solutions for the ceramic finishing.